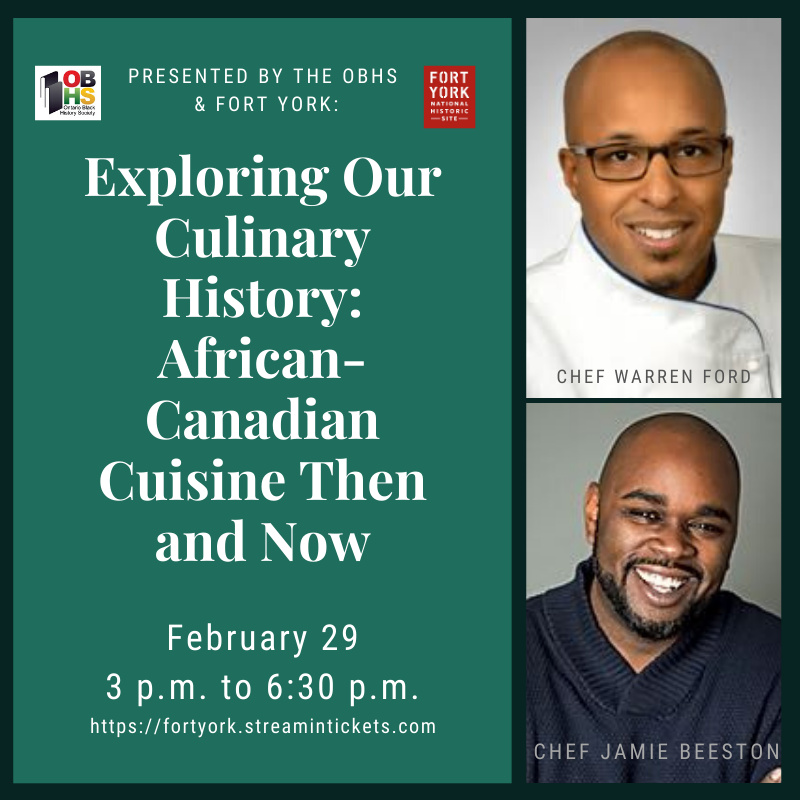 Join us on Feb 29th at the Fort York Museum
Tickets are limited! $25
Purchase tickets here

Exploring our Culinary Roots: African-Canadian Foodways Then and Now

In partnership with the
Ontario Black History Society.

Explore African-Canadian cooking then and now. Take a lantern tour of the Officers' Mess where soldiers once dined and relaxed. Try a historic punch from Robert Roberts' 1827 cookbook, A House Servant's Directory. Drop by the 19th-century kitchen to watch a historic cooking demo by Fort York staff and historic cooks. Then head to the Blue Barracks where you can enjoy a cooking demonstration and sample the cuisine from the African Diaspora. Our special guests include
Chef Warren Ford, George Brown College Chef School Professor and
Chef Jamie Beeston.
of Barbacoa Boyz. This event is part of Toronto History Museums' Black History Month programming. Fort York is one of 10 Toronto History Museums which explore where Toronto's many pasts, presents and futures meet. The museum, a 43-acre national historic site located in the heart of downtown Toronto, is a registered archaeological site, and home to Canada's largest collection of original War of 1812 buildings.

Saturday, February 29, 2020 from 3 p.m. to 6:30 p.m