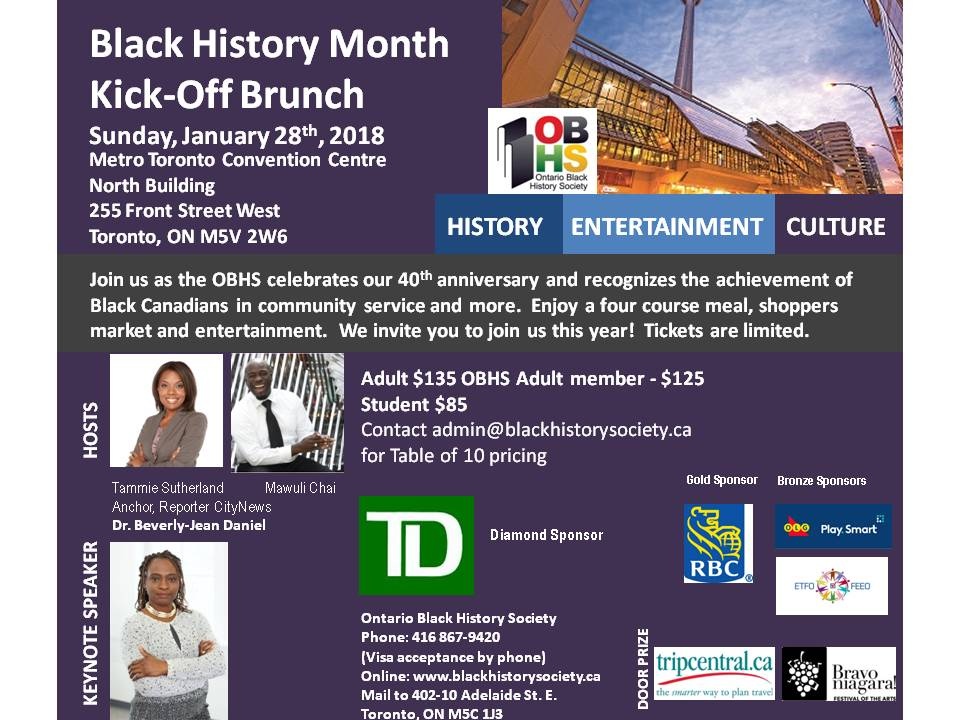 Join us on Sunday, January 28th, 2018, as the OBHS celebrates our 40th anniversary and recognizes the achievement of Black Canadians in community service and more. Enjoy a three course meal, shoppers market and entertainment. We invite you to join us this year! Tickets are limited.
For tickets contact admin@blackhistorysociety.ca or call 416 8679420
"It's all about our Youth"
Keynote Speaker Dr. Beverly-Jean Daniel


Performances

Awards

Delicious Meal and much more...
.ca



Sunday, January 28th, 2018
Metro Toronto Convention Centre, North Building
255 Front Street West
Toronto, ON M5V 2W6
For Tickets email admin@blackhistorysociety.ca or call 416 867-9420
Hosted by Tammie Sutherland, Anchor and Reporter CityNews and Mawuli Chai
Keynote Speaker Dr. Beverly-Jean Daniel

Early Bird – before Dec. 22nd Adult/OBHS Adult member - $125
Regular price: Adult $135 OBHS Adult member - $125
Student $85
Contact admin@blackhistorysociety.ca for Table of 10 pricing

Purchase your tickets by:
Phone: 416 867-9420 (Visa acceptance by phone)
Mail cheque to:
Ontario Black History Society

402-10 Adelaide St. E.
Toronto, ON M5C 1J3

Payable to: Ontario Black History Society